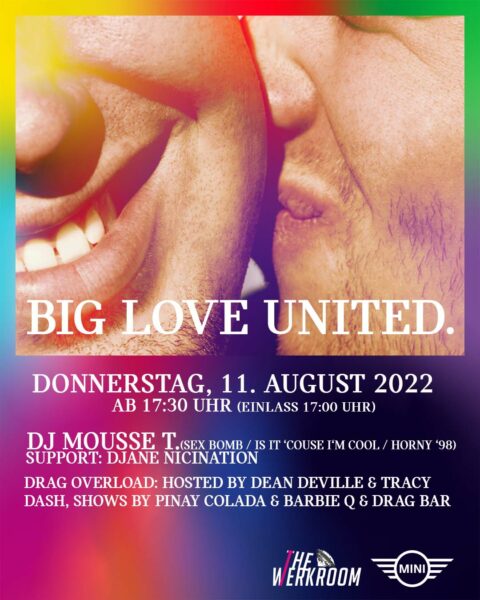 Das größte sportliche Ereignis seit den olympischen Sommerspielen '72 finden in München vom 11. bis 20. August statt: In 9 Leichtathletik EM's konkurrieren Sportler aus ganz Europa um ihren Sieg. Und wir feiern mit!⁠
⁠
Los geht es am 11. August mit unserem Opening Event: Freut euch auf einen wunderschönen Abend nach der Arbeit: Genießt leckere Drinks an unserer Drag Bar bei dem ihr viele Szenegesichter wieder sehen werdet: Unter anderem Daphny Ryan, Mediocre Legend, Kris Blaq und King Tenu werden mit dabei sein und euch leckere Drinks zaubern. Und nicht nur das: Denn von jedem Longdrink geht ein Euro an das schwule Kommunikationszentrum sub e.V.!⁠
⁠
Durch den Abend werden euch Dean Devillle und Tracy Dash begleiten, die beiden haben den perfekten Plan für euch. Denn es gibt nicht nur fantastische Drag Shows von Pinay Colada & Barbie Q, dazu haben wir gleich zwei DJs, die euch ordentlich einheizen werden. DJane NiciNation bringt euch schon mal in den richtigen Mood bis wir dann zu unserem Main Act kommen: DJ MOUSSE T. bringt euch nach einem langen Tag in beste Laune! Ihn kennt man vor allem als DJ und Producer: Hits wie "Horny '98" zusammen mit Hot 'N Juicy, "Is It 'Couse I'm Cool" mit Emma Lanford aber auch "Sex Bomb" mit Tom Jones und "Let's Go To Bed" mit den No Angels waren nur einige von den Bekanntesten Songs bei denen er seine Finger im Spiel hatte.⁠
⁠
Und wo wird's statt finden? In dem wahrscheinlich zentralsten Ort Münchens: Am Stachus! Genauer gesagt im MINI Pavillon am Lenbachplatz. Tagsüber ein Ort von Einzelhändlern und einem Café, verwandeln wir den Pavillon in einen großartigen Place to be!⁠
⁠
Und zur Closing Party am 20. August dürfen wir noch nicht viel verraten – außer: UNBEDINGT DRINGEND MERKEN!! Wir haben eine großartige und bekannte Person eingeladen die mittlerweile schon auf der ganzen queeren Welt bekannt sein dürfte. Mehr Infos gibt es bald. Es wird SICKENIIIIIIIING! Uhh Girl!⁠
ALLE INFOS AUF EINEN BLICK:
European Championsships Munich 2022 Opening Afterwork Event by MINI & The Werkroom
Donnerstag, 11. August 2022 ab 17:30 Uhr (Einlass 17:00 Uhr)
Music: DJ Mousse T., support by DJane @NiciNation
Hosts: @ItIsDeanDeville & @Tracy.Da
Shows: @MissPinay_Colada & @ItsABarbieQ
Special: Drag Bar mit @Daphny_Ryan, @Virgin.Villain, @mediocre.legend, @KrisBlaq_, Bobbie Nielsen und King.Tenu
Eintritt: FREI!